Our team is growing, and we'd love for you to grow with us. GBC Law is a place for motivated individuals who strive for personal and professional development in a team-first environment. With a natural sense of curiosity and empathy, we help clients achieve their own goals through understanding and collaboration. If you think we may be a good fit for your next opportunity, contact us at hr@gbclaw.ca.
Don't See What You're Looking For?
If you're interested in joining our team, we'd like to hear from you. Reach out to hr@gbclaw.ca to see if we have your next opportunity. You can also follow us on LinkedIn, Facebook, Twitter and Instagram for updates.
Our team takes learning & development seriously
Personal and professional development is a priority for us. We challenge each other to push the boundaries of our knowledge and expertise by encouraging our team to pursue new learning opportunities whenever possible. Whether that comes in the form of professional development courses or offering mentoring and training to help someone expand their skill set, we promote continual learning over the evolution of our careers.
To that end, we are committed to supporting our team to achieve their developmental goals. We use both scheduled and unscheduled check-ins to offer opportunities for self-reflection, planning, problem-solving, encouragement, and constructive feedback. This helps us remain accountable to our individual goals and to each other.
Work wins and
milestones matter
Our organization promotes a culture of gratitude and appreciation. We recognize the little wins and celebrate the big ones. Whether it's a spoken "thank-you", an email of gratitude, or a celebration of a professional or personal milestone, we strive to let our team know they are appreciated.
Succeed together,
learn together
Behind every great employee is a supportive team. We at GBC share a drive and determination to succeed together and apart; it's our secret sauce. As a boutique firm, collaboration is very important to us. Your thoughts and ideas matter here, and your curiosity and voice help to contribute to the success of the team. At GBC, you'll see us working cohesively to ensure our clients are receiving maximum efficiency and value from us.
A Vision to be different
We're driven by the desire to change the old way of doing things, and dispel the negative perception of lawyers. At GBC, we strive to make a real difference in the world of our clients and the world around us.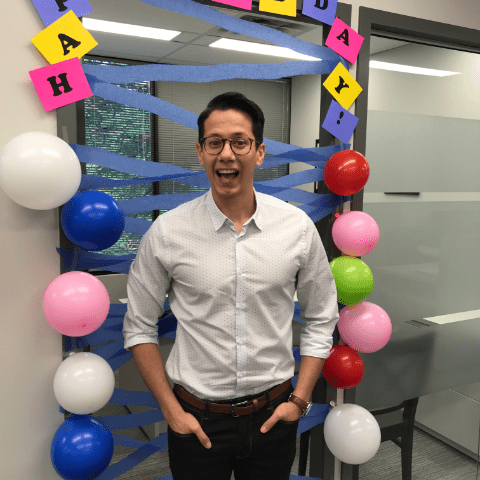 Our Mission
Our mission is to flip the script on the traditional view of law firms and forge a new brand of legal professionals.
As a team, we strive to empower our clients through active communication, collaboration, and advancement.
I was looking for a new and exciting adventure after graduating from Simon Fraser University, and got exactly that when I moved to Kingston to attend law school at Queen's University. My intention was always to come back home, with new experiences under my belt, and start my career in the only place I knew for the first 26 years of my life. As luck would have it, I landed an articling position at GBC Law right out of law school.
The whole team here has a great energy, from front reception to the corner office. We have a group of people who I really feel want the best for the firm and each other. Accountability is key, and everyone understands the underlying importance of this, especially during the busiest of times.
Efficiency is highly valued at our firm as well. I enjoy having the freedom to explore new ways of streamlining our processes and utilizing technology to its full potential to maximize value for our clients.
What I've gathered from working here is that we genuinely care for one another and constantly push each other to be better. With our core values as our compass, we are always looking to improve ourselves, whether that be professionally, personally, or collectively as a firm.
We're Guided By Our Core Values
Integrity
We demonstrate integrity and honesty in our decision-making and actions. We value candour and openness and strive to make this a focus in our everyday interactions.
RESPECT
Respect is non-negotiable to us. We treat our clients, team, and community partners with care and respect. We are mindful of everyone's individual circumstances and work to achieve results with that in mind.
Collaboration
We serve our clients by listening, empowering them with advice, and working together to achieve their goals. As a firm, we work as a cohesive team to ensure our clients receive maximum efficiency and value.
Growth
We are always reflecting on how we can do better as legal services partners, advisors, and human beings. We love learning, thinking outside the box, and adopting strategies to improve as a team and as a law firm.
Accountability
The quality of our work is very important to us. We take ownership of our work, honour our commitments, and consistently aim to exceed expectations.
Legal Assistant
Real Estate & Corporate
I started my career with GBC Law back in 2014 after completing my Legal Administrative Certificate Program. I believe my longevity at the firm speaks to my desire to work at a company that prides itself on producing quality work, and fostering an environment where I can grow and develop my skills and abilities.
Working at GBC Law has given me the confidence to overcome challenges that I wasn't sure I could overcome. Challenges will arise in any work setting, but I've come to realize that having the support of a patient, supportive, and competent group of co-workers makes a world of a difference. Everyone is dependable and trustworthy when it comes to collaborating on files.
Over the years, I have seen the firm collectively refine its core values, mission, and vision, to bring them in line with our clients' expectations, as well as our own. In addition, the culture at our office exudes positivity, which is enticing by itself.
One of my proudest moments at the firm was completing over 80+ real estate files in the span of just one month. The acknowledgement I received from my colleagues really made me feel appreciated and celebrating my accomplishment with them meant a lot to me. I love how the firm demonstrates its gratitude towards its employees in times like these.
We Believe in a Healthy Balance of Responsibility and Freedom
We believe in taking ownership and responsibility for one's work. This means that we trust you to be accountable for your workload, and allow you the flexibility to use your discretion to prioritize your files. In other words, we don't like to micro-manage.
We also believe we are at our best when our team is well-rested and balanced. To achieve this, communication is key. When things get tough, we implore you to reach out to us so that we may find solutions to help you overcome any obstacles you may be facing. Your mental health and well-being are important to us.